A million single-use water bottles are bought around the world every minute and, astonishingly, it's
predicted
that figure will rise by another

20 percent by 2021.
Consumption of water bottles is especially prevalent in the world's cities, where pushcart vendors and bodega owners hawk ice-cold water to hot tourists and city dwellers in the sweltering summer heat.
What's the alternative? Public drinking fountains are often decrepit, rusty or just don't work. As part of the effort to reduce plastic waste, many cities are trying to make public drinking fountains chic again – some with a little help from the private sector and designers.
London announces 50 modern drinking fountains across the city
Just this week, London announced the
locations of the first 50 of 100 promised
public drinking water fountains
around the capital. But these aren't like the water fountains you remember from the school playground or local park, where you had to bend over to slurp a few drops inches from the metal spout.
The six-foot-plus structures are topped with a giant blue "
waterdrop
" to make them easy to spot. And rather than slurping, people can refill their water bottles. The fountains have been installed near the high-trafficked Tube (aka, subway) and mainline train stations, shopping centers, markets and parks. The
goal
: Ensure all 9 million Londoners and 30 million annual visitors have access to free drinking water while they are out and about.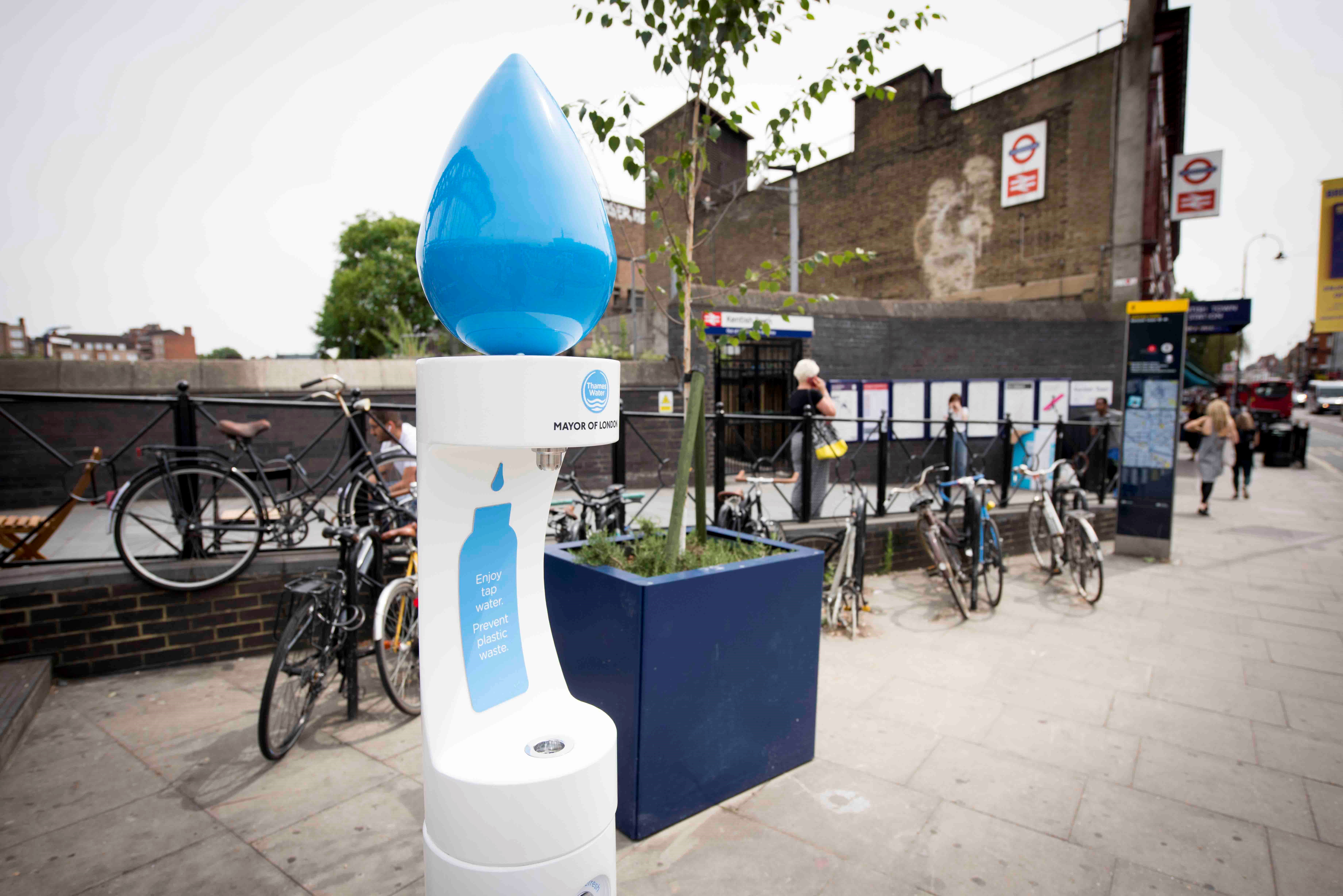 (above: The giant blue water drop - the new London icon?)
The fountains are a result of a partnership between the city government and
Thames Water
– the United Kingdom's largest water and wastewater services provider. Each party is contributing £2.5 million ($3.1 million) to fund the venture backed by a 25-year maintenance
agreement
. The partnership also involved
MIW Water Cooler Experts
in the initial pilot in 2018. As part of the
#OneLess
campaign – which includes a network of policymakers, NGOs, businesses, communities and individuals set up to tackle London's plastic problem, including the single-use plastic water bottle – MIW set up 28 pilot water stations that quickly saw thousands of Londoners filling up their water bottles each day.
The new round of 50 fountains announced this month will be at a range of sites, from the iconic Natural History Museum and London Eye, to public parks and community spaces.
"To get a grip on needless plastic waste, we need to provide simple ways of refilling and accessing free water, and water fountains are the much-needed solution," the mayor of London, Sadiq Khan, told
The Guardian
.
Shirley Rodrigues, deputy mayor for environment and energy, went further, telling Guardian reporter Nicola Davis, "We want to make sure that it becomes the norm that people cannot use single-use plastic bottles."
New York, are you listening?
Some 3,400 miles southwest of London, millions of New Yorkers have their own problem when it comes to public drinking fountains: lead contamination.
Lead contamination is common for cities with aging, lead-based plumbing. As part of Mayor Bill de Blasio's
LeadFree NYC campaign
to eliminate childhood lead exposure, the city will test every single drinking fountain in the city's park system for lead – the first time such a test has been carried out in the city. Those found with high levels will be remediated.
Mayor de Blasio may want to chat with Mayor Khan about his efforts in London. In addition to remediation, what about a campaign to find creative ways to make public drinking fountains chic and accessible again? Certainly, there are enough artists and entrepreneurs in the five boroughs who would be eager to join forces with the city.
"The goal is really to extend our mission to rid the world of plastic bottles and we couldn't help but think the best way to do that is to tap into the city's future leaders," S'well Vice President Kendra Peavy told
CBS New York News
.
S'well Founder Sarah Kauss, who launched the company in 2010, explains on the company's
website
that she "believed that if we made a crave-worthy bottle that combined fashion with function, people would stop buying disposable bottles and we could reduce single-use plastic consumption worldwide." I think she's on to something: Today, S'well is the fastest growing woman-owned co
mpany in the U.S.
Two other New York designers --
Agency-Agency
and
Chris Woebken
– also want to help New Yorkers kick the single-use bottle habit. They have created a prototype drinking fountain of bright blue plumbing fixtures that could turn the city's fire hydrants into public drinking fountains.
The conceptual project, as described in the online architecture, interiors and design magazine
Dezene
, was developed over summer 2018 in response to a brief from the
Water Futures
research program organized by Brooklyn creative space
A/D/O
. The initiative aims to find design responses to the world's increasingly pressing water scarcity issues.
"Water Futures aims to inspire the creative community to take action in reimagining our toxic drinking water culture," according to the
website
.
The hydrant turned fountain includes four shallow dishes at various heights that would allow adults, children, dogs and birds to drink the city water. The lowest basin is a dog bowl, the middle two are outfitted as drinking fountains for humans, and the top vessel forms a bird bath. A vertical pipe connects these basins and ensures they stay full. Next, the designers plan to work on a refill station for reusable water bottles. Again, Mayor de Blasio, are you listening?
London isn't the only city working to lure people to public water fountains. Many others are refurbishing old fountains and creating apps for people to easily locate them.
Emanuele Pizzolorusso is hoping his newly designed reusable water bottles will help. His new
bottles
list the locations of public water fountains in 10 major cities -- Amsterdam, Barcelona, Berlin, Copenhagen, London, Milan, New York, Paris, Rome and several time zones away in Tokyo. Made from PBA-free plastic resin, the half-liter water bottles were designed for Florence-based
Palomar
.
"In many countries, a lot of people still buy bottled water," the designer told
Dezene
. "Highlighting the drinking fountains in our cities was a way to bring to our attention the fact that we can use tap water. In most countries, the water supply is highly secure and often there is no real need to buy bottled water."
From London to New York to Florence, great ideas are taking flight to help revitalize public water fountains. With luck, we will see even more examples of creative designers and businesses teaming up with city and state governments to make this movement a global trend.